We are days away from Hari Raya! We hope you had a blessed Ramadan. As we approach the end, we should use this time to reflect on the challenges we have overcome and our strength this holy month has brought us.
While most households would have already coordinated their Raya looks, some of you ladies might be thinking about how to style your Baju Raya in a way that allows you to look unique from your family members. The secret? Makeup.
This week we have another get Raya ready with Zahara and we're doing a gorgeous Purple Glam look.
Our model this week is rocking a modern grey Baju which makes playing with colour so much more fun! We played with the Vintage Romance Palette and made sure to add a similar shade of colour onto our nails.
Continue to read on for steps on how to achieve this look. You could also watch our video tutorial here:
Let me help you break it down. The following are the ingredients that you need!
Go for a flattering colorful scheme with the Zahara Vintage Romance Eyeshadow Palette. Add some smokiness to your eyes with the Zahara Longwear Eyeliner in Onyx. Don't forget to include a little flutter to your lashes with the Daredevil Lashes Mascara. We topped it off with the Matte Lip Cream in Mystery and finally tying everything together with a swipe of Lovender and Arctic Queen Halal Nail Polish.
Steps:
Start with primer over your lids if you particularly struggle with oily eyelids. Go in with a light wash of colour over your primer so that your base stays in place. With a generous amount of "Blush" go over your entire eyelid and be sure to blend the edges with a fluffy blending brush.


Next, go for the metallic-ish purple eyeshadow in the shade 'Swinging' to blending out the outer corners. This is great for people with almond-shaped eyes as it helps round them out and gives an illusion of bigger eyes.

With the shade 'Cherub' we want to add some sparkle in your inner third to lighten up the look and further emphasize that rounded shape.


With the darkest shade in the palette, dip into 'Plum' to plump up your lashes. Slowly add some colour as close as you can to the lash line.


We wanted to keep this look as wearable as possible during the day so we only added some eyeliner onto the outer third of the lower waterline. Should you need to take this look into the night, you can dip into the shade 'Swinging' and tuck that in as close as possible to your lower lash line. 


Surely, you're a girl who loves a little flutter to her eyes. Top up some Daredevil Lashes Mascara for full fluttery effect.


We kept things simple on the lips with a little bit of 'Mystery'.


Don't make the mistake of not kicking off your bake!


Go in very sparingly with the shade 'Cherub' to add some pink highlight over the top of your cheekbones. 


Lastly, complete your Raya look with a little Lovender and Arctic Queen on your nails!


Matchy-matchy. I'm definitely someone who enjoys matching the colours of my nails to the colour of lip or eyes - whichever one is rocking a statement look. With that, brings the a close to our Raya Ready series and we hope you will be getting ready with us playing somewhere during your Hari Raya preparations!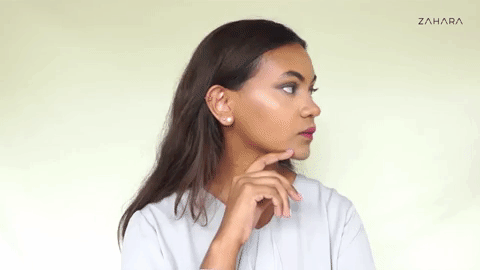 Do share your Raya looks with us and you may even receive a $10 gift voucher off your next purchase with us! For more details, you can check it out here:https://www.zahara.com/pages/rayareadywithzahara
Wishing you a Selamat Hari Raya Maaf Zahir dan Batin.
Stay tuned for a Raya special tutorial out on Friday on how to style your hijab!
Love from,
Zahara
(Written by Luxmee Sabapathy)