How quickly has time flown? Another week down and we are approaching the halfway mark to Raya! If you've been keeping up, Zahara has created a Raya Ready series with a compilation of four easy-to-do looks for this upcoming celebration!
This is the next installment in our Raya Ready series where we show you how to effortlessly achieve a sophisticated glam within minutes. This Smokey Glam look pairs well with any coloured outfit as we know how you last-minute shoppers are. 
The trick is to keep the eyes simple and smoked out, nails elegant and classy and go for a bold lip to really complete the look.
Continue to read on for steps on how to achieve this look. You could also watch our video tutorial here:
We used the Zahara Smoke Palette with great neutrals to ensure your smokey eye is much more wearable for daytime and night. We followed the rest of the tutorial with the Longwear Eyeliner, Daredevil Lashes Mascara, Matte Lip Cream in Boss and of course the Zahara Oxygen Nail Polish in Modesty Muse and Simply Covered.
Here are the steps to accomplish this look:
Under-eye baking is great to catch any fallout and also brightens up any dark circles we need to hide!
Go in with a little primer if you have oily lids. You could also go right in with our Smoke Palette, in the shade 'Naked' to ask as a transition shade that evenly blends out from the smokiness to your natural skin tone.

Next, go in with the deep chocolate shade 'Shadow' in the palette to begin the smokey process. Slowly build it onto the outer third of your eyelid. It will look very harsh when you first apply but take careful time to blend out the edges with a different fluffy brush.

Fill in the inner corners of your eyes with 'Shimmer' to make them pop and for it to act as a gradient to the darker shade.

To layer on the smokey effect, add a little bit of eyeliner unto your lashline. We used the Zahara Longwear Eyeliner in ochre to make our smokey eye a little more wearable for the daytime. Hot tip: You can also smoke out the liner with a smudger brush should you want to amp up the vamp for your night time look. 
Time's up! Your bake is completed. Be sure to wipe it off. 
Essential for any smokey look, is smoking out the bottom lashline. We went in with the same shade 'Shadow' and buff that underneath the lower lashline. Alternatively, you could go in with the black shade in the palette 'Define' for a more dramatic smokey effect. 

Your beautiful lashes can easily drown out with any smokey look. The secret is TONS of mascara. We're using our favourite Daredevil Lashes Mascara for that full and fat lashes look. 
It's tradition to celebrate Raya with decadent meals and we want something that will last through a whole day of eating! With our super long-wearing formula, the Zahara Matte Lip Cream is your go to. Use 'Boss' for maximum glam! 

This is no secret that eyeshadows are great alternatives for highlighters on the go. We dipped into our trusty Golden Goddess palette in the shade 'Angelic' so we can glow for the gods! (This step is optional, but still essential!)

As a final touch, we opted for Modest Muse and Simply Covered on our nails to wrap everything up. 
Did you enjoy this smokey glam tutorial? Tell us what else you would like Zahara to do a tutorial on and we will do our best to make that happen.
Be sure to keep a lookout for the next two Raya Ready looks that will whip you in to shape for the upcoming celebrations!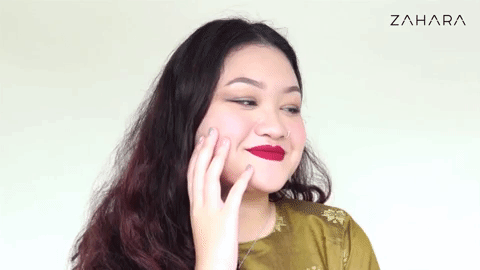 Until next time.
Love from,
Zahara
(Written by Luxmee Sabapathy)